Fun at the farm
Fun Farm, a pumpkin patch located in Kearney, offers tons of activities and fun things for the whole family. 
There is a tree house village, playground, two jumbo jumpers, barn games, hay rides, a trike track, and a new steep fun slide, duck races, a giant corn pit, multiple barn animals, a cow train, a beehive, and don't forget the corn maze, the corn maze is fun until you get lost or separated from your family. 
I think that the jumbo jumpers are the best because you can have fun, run around, jump, and it also provides kids the opportunity to play with other kids. 
The slide is fun however, once you get to the top of the hill you can really tell how high the slide is and scared the little kids were around me, some walked back down the hill crying because the height scared them. 
There are also many places around the pumpkin patch that would make good backdrops for photos, there is a big red chair that says "fun farm" in huge letters that you could stand on or sit on to take photos. There is also an old farm truck that has a large seating area on the back with hay bales and makes a good place to take pictures also.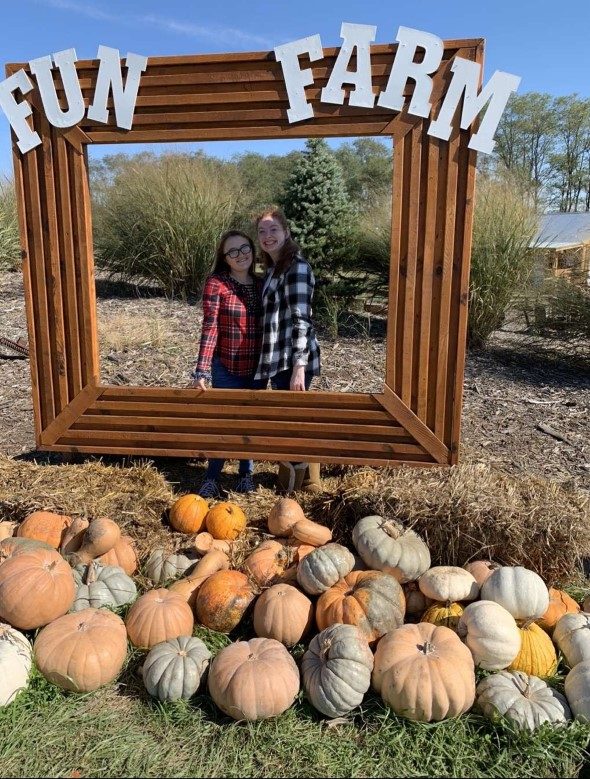 Visitors can also pick a variety of pumpkins and apples. Visitors can watch the pig races and see a beautiful fairy princess, who makes every little girl's dream come true. She walks around and talks and will hug and take pictures with kids. 
They have pigs, goats, chickens, cows, turkeys, ducks, and donkeys including a new brown and fluffy baby donkey born in September, you can feed the farm animals when the feed station is open. Sometimes the feed station is closed depending on the time of day. 
 They also have a variety of sweet treats and lunch items like hotdogs and burgers, my personal favorite are the funnel cakes.   
In the exit barn building, there are also toys, honey, and fun fall crafts which you can buy and then take home and do with your family, they are a pretty decent quality but can also be too expensive. Right in front of the store, they have small pumpkins for the little kids; and they have fresh flowers for sale.
 All around me, children laughed and enjoyed themselves with family and friends. It is a family-oriented experience everyone in the family can enjoy.