The Rush of Work
As the school year progresses, so does the work. For students with jobs, balancing a heavy workload comes with its challenges.
"It depends on the week; if I have lots of things to do it makes me a little stressed, but I really do enjoy my job," junior Gracie Vieth said.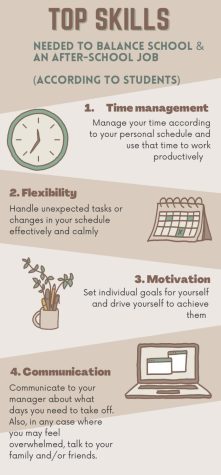 Vieth works an after-school job at HyVee on Wednesdays, Fridays, and over the weekend. Along with her job, she is an early college student, where she spends half her day at MCC and the other half at Oak Park. Because of this, Vieth feels her schoolwork should be valued over her job.
"To stay on top of this work, I plan out my week and plan around when I have to work," Vieth said.
Prioritizing certain aspects of work comes into play with a busy schedule. Sometimes, certain sacrifices are necessary to stay on top of school. In the case of a big upcoming test, junior Allie Vanderbeek said that she may take a few shifts off her job in order to have more time to study.
Despite the constant rush of work and time that goes into both school and a job, students find it to be worthwhile for many reasons.
"I don't think I could just not work," senior Holly Willis said. "I love having my own money and being able to save for my future."
Having a job supports students financially, whether that's insurance, savings, and/or spending money. Alongside this, some students simply do it for themselves.
"It makes me feel more accomplished at the end of the day because I went to class and made money instead of just working on weekends," Vanderbeek said.