Band perseveres in troubled times
Every student has an activity that takes up most of their time. Whether it be sports, Student Council, crocheting, it's something they are passionate about. Well, mine is music. While I am a part of the school's band, that is not what this story is about. We will look at my own band, A Way Out of Ordinary.
Four years ago, our band was founded by three female musicians who wanted to expand their horizons. Making music in an alternative rock genre, our sound can be compared to artists like Avril Lavigne and Blink 182. Now with only two of the original members remaining, we are ready to face what comes our way.
"Being an all-female band is a statement. There are limited because males typically dominant the industry, but we want to highlight all the female musicians out there," said bandmate Nicole Stramm.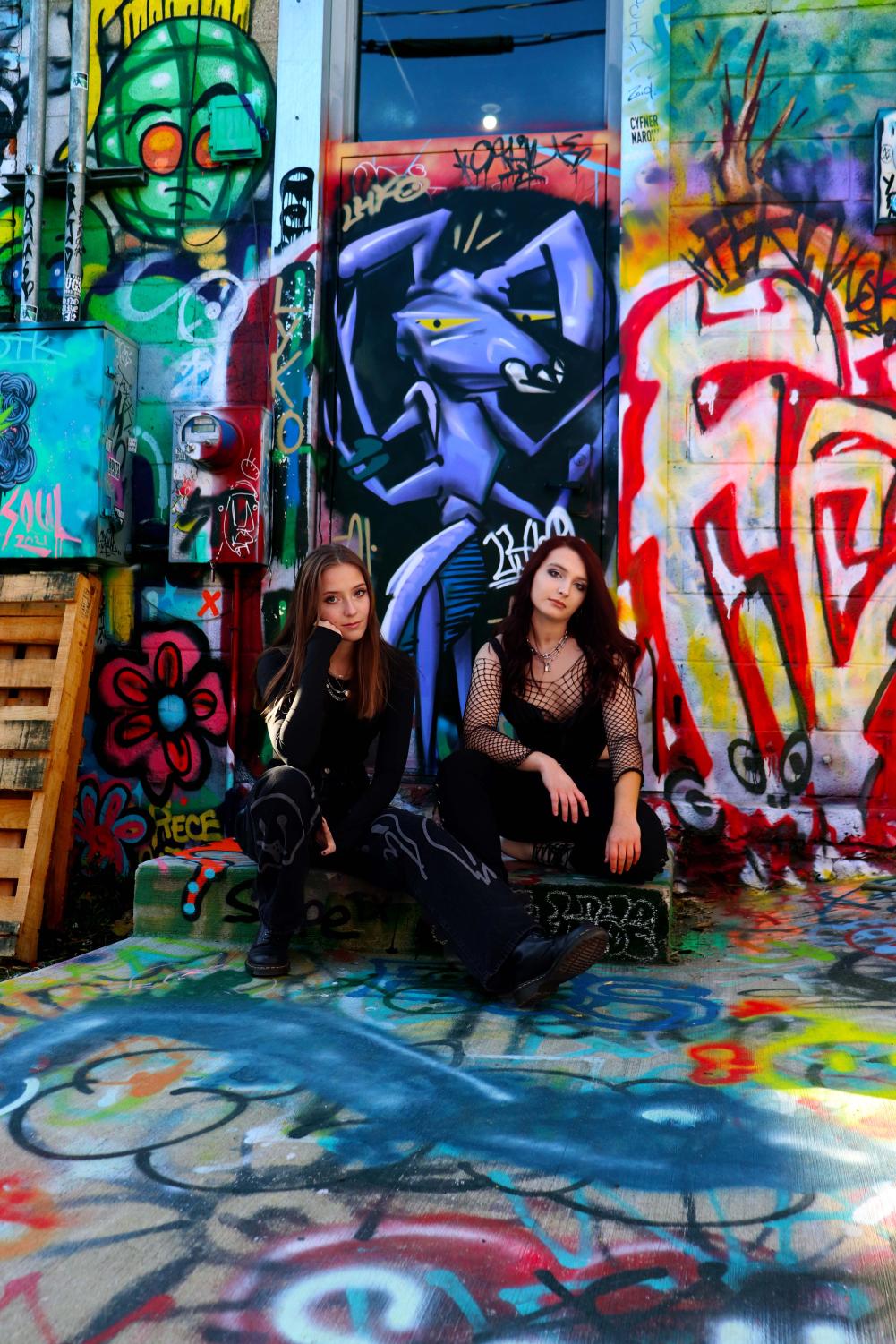 Stramm is the singer and bassist. I am the drummer. Without a guitarist, there are some limitations with live performances. Since we have been just writing for the past year, Nicole and I have been able to do things just us, but since places are opening back up and more opportunities arise, a third member becomes essential.
Since we started a band with all girls, we plan to keep it that way. When hiring guitarists, it doesn't matter what gender they are, but for a permanent one, we want to keep it all female because those types of bands are so rare and make us stand out. Female musicians aren't a rarity in the media, but all-female bands are. We want to break the stigma that "girls can't play as well as guys can;" we want to show that music is for anyone and everyone.
"Open mics are a great way for musicians, new and old, to test out new music and get practice being in front of a live audience," said musician and owner of The Rino, Ben Wendt. "I love seeing all the types of people who come to our open mic and experience type of music they bring."
Being in a band isn't as glamorous as it seems in the movies. Jamming in your parents' basement, getting random gigs around town, then becoming the talk of the town isn't realistic.
Being in a band is a business. Since we're not signed under a label or have a manager, we do everything ourselves. A manager would help us book gigs, promote our music, and be a negotiator for our future business endeavors. So, we went to open mics open to all ages and prepared short sets to perform for practice playing live and in front of an audience, no matter how small.
We started posting on social media to get the word out there by posting short posts about ourselves and short covers. While we did not know exactly what to do, we tried our best with what we could do. We looked at some of our favorite artists' social medias to see how they promote themselves and looked at how their pages were set up to know what would make the most sense for our audience. Some of those favorites include Avril Lavigne, The Foo Fighters, and more recent artists like Megan the Stallion.
While we wanted to present as a semi-professional band, we just also wanted to have fun, so we weren't too concerned that everything we posted must be perfect.
"I've known the girls for years and am glad I have been able to be a part of their music journey," said producer and longtime friend, Ara Woodall.
While it is hard, we couldn't have done any of this without people like Woodall. He has been a part of the band's journey from the very beginning.
He taught us our instruments, helped us book shows, produce our music, and so much more. None of this would have been possible without him and that is why the band is named after him.
"Going into lockdown was one of the worst things that could have happened to us," Stramm said. "It felt like we were progressing greatly as a band and all the work we were doing came to a halt and we had no other choice than to just sit and wait."
When COVID-19 hit, we were on a roll. Fresh off a gig the end of January and planning on having a summer filled with performances and working on our EP, a short album. We were excited for the future.
Then all of that changed in a blink of an eye. Like many other bands, we tried our best to keep on going virtually, but it just wasn't the same. It was the break we never asked for in the height of our career as a band.
Once things started to die down and were finally able to meet again, we slowly started back on the grind. People constantly grow and change and unfortunately during this time we lost a member. People can drift apart over time and now we were faced with how to manage a band with only the two of us.
So, what did we do? The only thing we could, throw ourselves into the music.
"We were hesitant with what the response once we started to open our doors again," Wendt said. "Luckily the response has been great, and it shows that people are ready to get back to a sense of normality."
Jump back to the present, we have finished all the songs for our EP. Currently we are re-looking at each song to make sure they are perfect before sending them to get mastered. In the music world, mastering is the process of taking the demo of the songs and making them perfect for radio play. It can be compared to revising a draft of an essay to make sure it is perfect before you turn it in.
Now with the songs done it is time for phase two, promotion.
Luckily for us, we were able to book our first show back from COVID-19 right around the time we want to release the EP. A show is a great form of promotion. It creates excitement and is a great way to preview what you've been working on before it gets released to the public.
Since we do not have a guitarist, we must look for a guitarist for hire. Musicians for hire is a profession that helps musicians who need a backing band get a reliable musician who can learn anything you give them, and they just show up and perform.
Since we have been playing with the same people for four years, it will be a process adjusting to playing with people we do not personally know.
While we prepare for the show, we must create the concept for the EP. That consists of coming up with a title, creating a cover that represents the theme, and having photoshoots surrounding the theme to post on social media for promotion for when we announce it. While it is a lot of work, it all pays off in the end.
Over the course of working on this EP, the inspiration had changed so much. Ultimately the theme is everything that has happened in the past year but in song form. While it does not directly comment on what has happened, it portrays all the emotions that we went through and how we changed as artists.
"The girls have grown immensely since they first started," Woodall said. "They are wonderful musicians, and I am excited to see what we are capable of making together in the future."
We are so excited for what is to come and share what we have been working on for so long to the public. Kansas City has so many great local artists who get overlooked by mainstream artists. If you get anything out of reading this, I hope you take a second to recognize some of the great local musicians like Jessica Harp and Rachel Mallin, singers who also attended Oak Park, and Wendt, who attended Winnetonka. And to all my fellow teen musicians, I hope this inspired you to follow your passion.
Leave a Comment