Credible 'bomb' and 'shooting' threat at Oak Park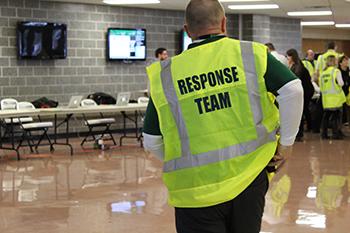 Students were just starting their 2A classes. It was the day after spring break ended and students and teachers alike were just getting back into the swing of things. Unexpectedly a "lock and teach" was enacted, but students didn't think much of it. It was probably just a drill. They were used to having those. Then the intercom came back on moments later, commanding a "full lockdown" of the school. It didn't take long for unease to settle in and curiosity to consume dark, locked classrooms.
Monday morning Oak Park High School, the Kansas City police and Clay County sheriff's office received threats to the school, which prompted immediate action from both school administrators and police.
Police detained and interviewed a few students to narrow down and better track who had made those threats. Along with that a lockdown of the building was initiated, forcing students to sit in the dark far from classroom doors and windows.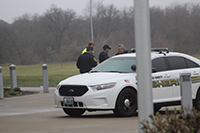 The lockdown of the building started around 9:15 a.m. and around 10:30 a.m., it was announced students would be evacuated to Staley High School in order to keep students safe and allow police to search the building.  Students were asked to leave anything not already on their person in the building and students with cars were restricted from using them as well.
By then rumors were really flying. Students were sharing any information they had about students who had been taken from their classrooms for investigation, what they had seen online previously, and any other notable thing that could be involved in what was happening. Students had no clear answers, and only clues and word of mouth to conclude from.
Parents were being alerted of the situation by the school messaging system and media outlets that were reporting from both OP and Staley. Students had already been texting them about the events unfolding. Worry and panic reportedly washed over parents, who also had limited facts to work with.
By 10:45 a.m. buses lined the outside of the building and students were taken a few classrooms at a time to the buses by police. Students were asked to walk to the buses with their hands over their heads and some classes were even pat down.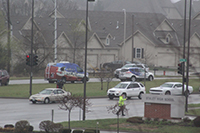 Parents were allowed to pick their students up at Staley, but were required to fill out paperwork and show a photo ID. Some buses got through the traffic of worried parents easier than others, but eventually all students were at Staley and later reunited with their parents.
Students were allowed to pick up their cars Monday evening after the police search was concluded, but the school was closed to students until 7 a.m. Tuesday. Teachers were instructed to not open classrooms until 7 a.m. so students belongings were protected at all times.
Tuesday morning classes continued as normal, with students stopping to their 2A classrooms to pick up their bags. The only major change was the extra police protection at the school in case anything happened, and a few news crews standing by outside.
Police reported not finding any weapons or explosives of any kind and they, along with the school administration, urge students to speak out if they knew who made the threat to the school Monday morning.
Anyone with information should call the Clay County Sheriff's Office at 816-407-3700 of the TIPS Hotline at 816-474-TIPS (8477) or reach out to OP staff.
Related Stories: