Calling All Readers!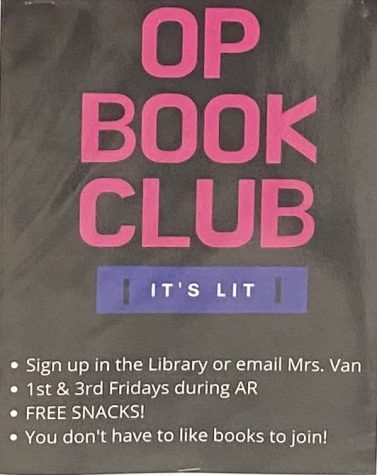 With countless clubs to choose from this school year, it can be hard to decide which ones best fit you and your interests.
On Friday, Sept. 23, the first day of club meetings were held during AR; one of these being the OP Book Club. If you are looking for a club that provides a relaxing, enriching, and fun environment, the OP Book Club might just be the one for you.
Over the years, the OP Book Club has grown in its student size. As of last year, about 50 people signed up and 25 to 30 students showed up to the meetings throughout the school year. On the first day of meeting this year, 28 students signed up to attend the book club.
Being a new member of the club, junior Shaimah Sentamu said she joined because of her love for reading books.
"Reading makes me happy," Sentamu said.
Outside of reading, the club provides free snacks for those attending and has done other activities such as trivia and games in the past. In addition, students in of this club have participated in Literacy Nights at elementary feeder schools.
"I think the best part of the club is it's laid-back, relaxed nature," librarian Angela Van Batavia said.
As a group, club members are given 100% agency to choose a specific book or genre to explore. Based upon the majority's vote, they then break up to read and confer. This year, the genres of horror and romance were a general favorite of the club.
"It's an amazing way to meet new people with [a] similar interest that understand and have that same passion as you," junior Zia Spearman said.
Being a constant reader, Spearman also enjoys learning about other students' favorite book genres and book recommendations. Not only does this club allow you to make connections with people like you, but it opens your mind to the various interests of others.
If this club seems like it could be an interest of yours, sign-ups up are held in the library, or you can email Van Batavia ([email protected]) to join. Any current members of the OP Book Club are to meet in the library during AR on the first and third Fridays of the month.