Tennis has success at two tourneys
Love all! According to Coach Tana Stock, the varsity tennis team had a laborious win with all the girls placing at the William Chrisman and Winnetonka tournaments Saturdays, Sept. 11 and 18.
They started with a bang. Competing with schools in the district, the athletes approached the William Chrisman tournament relaxed. They played in many difficult matches throughout their time at the tournament. The girls constantly moved around the court to get hits.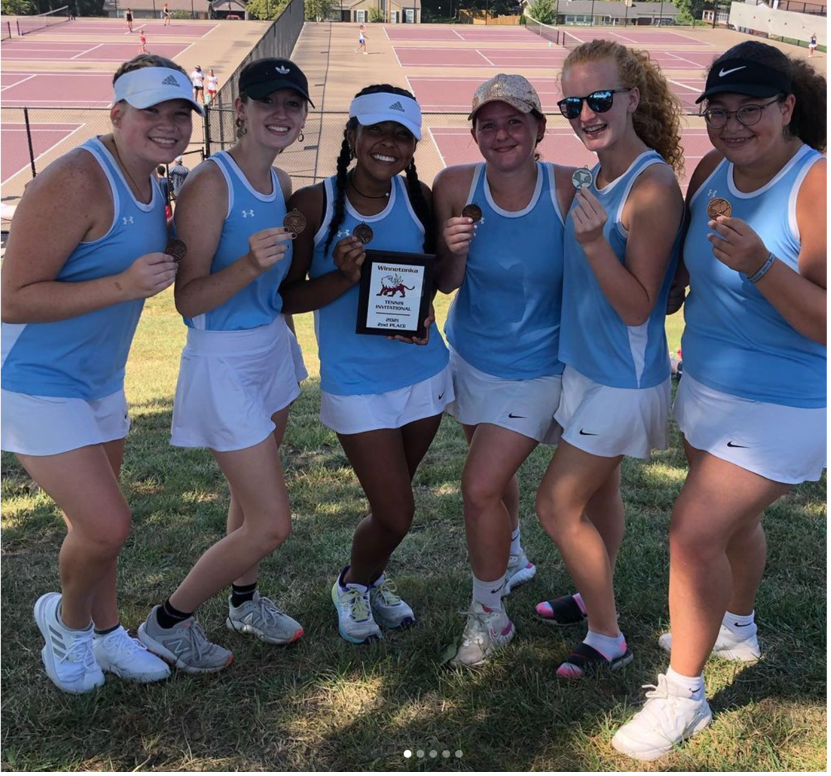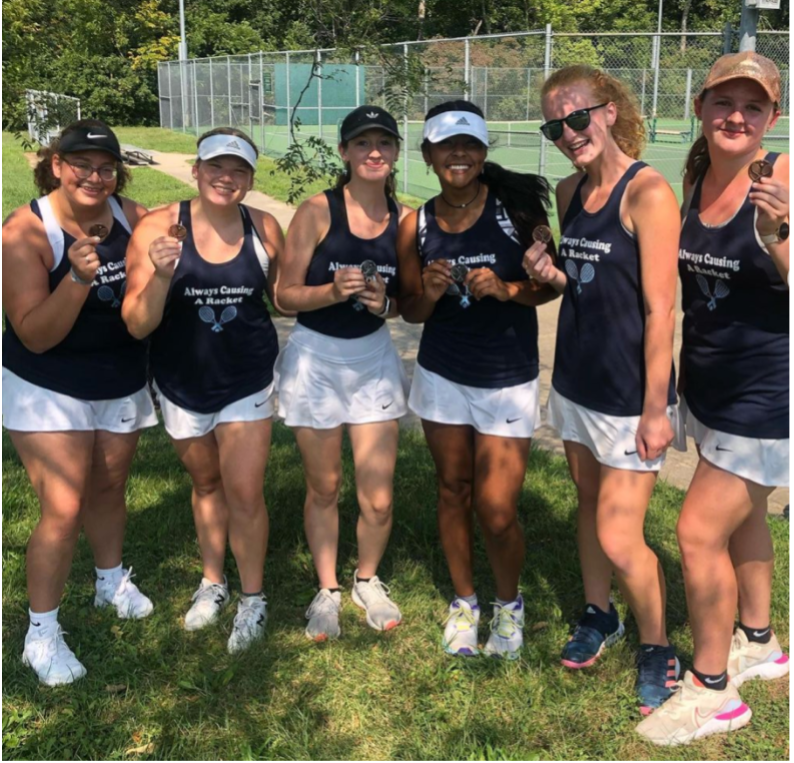 When they found out they all placed in the top three of their sections, they were jumping and screaming. Senior Kylie Michael, the No. 1 player on the team, was completely taken off-guard when she placed.
"I felt amazing. I haven't done that before in my four years of playing, so I knew I improved throughout the years. It also was awesome to see the girls medal as well," said Michael.
When they walked into the Winnetonka tournament, they were once again serene and didn't let the other players bother them. This tournament was a bit more heated than the William Chrisman one.
Their opponents often got frustrated when they couldn't hit a ball and made some incorrect line calls. But they remained undisturbed. Junior Sydney Prate, the No. 4 player on the team, hugged her teammates when they said they placed.
"I felt very overjoyed, but also happy that everyone else placed," Sydney Prate said.
The varsity tennis girls walked out of the tournaments with pride. They complimented each other for the rest of those days.
Tennis gets quite a bit of viewers. When you walk into the tournaments, it seemed everyone's mothers were on the side watching their daughter play. And it's not just at the tournaments.
At most of the Oak Park matches, approximately 20 parents were there supporting their kid at each match. Karen Prate, Sydney Prate's mom and tennis viewer, went to more than half of the matches and was always happy to see her play.
"A favorite moment of mine was when Sydney was at the William Chrisman tournament. She made her first aggressive move at the net, and her doubles partner jumped and squealed with pride," said Karen Prate.
Leave a Comment