Reflections of a Chiefs Super Fan
I consider myself a Kansas City Chiefs fanatic. My football season starts in about mid-July, when training camp kicks off. This past season I attended five days of training camp allowing me to create endless memories and meet tons of players and coaches including OC Eric Bienemy, TE Travis Kelce, K Harrison Butker, P Tommy Townsend, DE Frank Clark, DT Chris Jones, Voice of the Chiefs Mitch Holthus and tons of other familiar faces during my time at camp.
Football season is in full swing starting in August with preseason, this past season the Chiefs had an away game first and then followed by two home games, of which I attended both. Preseason is such a fun time to bring lots of family and friends and really just enjoy being around other people while getting to watch a football game as well.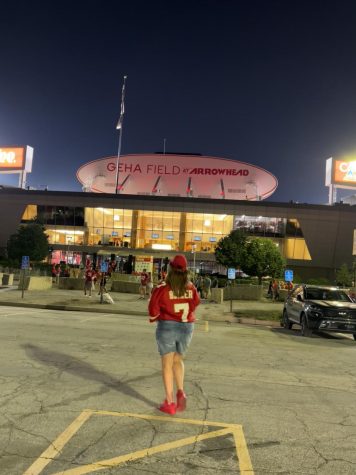 The real deal kicks off in September, my dad and I have season tickets allowing us to attend every home game throughout the regular season and the playoffs. Over the course of five months I spent countless hours at Arrowhead Stadium, arriving at many games up to seven hours prior to kickoff.
Tailgating is part of the authentic Chiefs game experience, it brings people together, creates unbreakable bonds, and you always have thousands of your closest friends in the same parking lot as you. My dad and I despise Arrowhead parking strictly because it takes hours on end to get out of the stadium after a game, so instead of joining everyone else in the main parking lot we slide just barely into the gate and park right on a patch of grass just inside gate 6, allowing us easy access to leave quickly. Tailgating for me typically consists of me, my dad, and two of our closest family friends Tyler and Cody. Everyone brings food and snacks along with a griddle or a grill, someone brings a heater for the cold and Tyler and Cody always bring a TV when the Chiefs are playing in a later time slot allowing us to watch the other games that are happening around the league in the parking lot. 
My favorite part of being a Chiefs fan is the atmosphere of Arrowhead stadium. The crowd cheers with so much passion and love for the exact same people, all everyone wants is to see the team they care so much about to succeed and everyone comes together, no matter the weather, to cheer them on with everything they've got.
I always drag my dad into the stadium two hours prior to kickoff, which is when the stadium gates finally open. I run down to the field by the 30-yard line on the Chiefs sideline to watch warmups. I go down specifically to where my favorite players, Townsend and Butker, warm up and have all of their equipment setup. I currently have a long-running 14 game streak of getting a wave from Townsend, he often comes up to greet me and other fans around me, he's truly one of the sweetest guys on the team and is really really bad at not turning around when he hears his name.
The playoffs at Arrowhead are truly unmatched, the energy in the crowd is like no other, trying to help put the Chiefs back in the Super Bowl. Watching the Chiefs win and succeed so often throughout the season is such a heartwarming feeling but wins in the playoffs are a different kind of excitement.
After attending the infamous Bills vs. Chiefs Divisional Round game last season as well as the Bengals vs. Chiefs AFC Championship game ended not the way I wanted, I truly wanted nothing more than to be there when the Chiefs were sent off to the Super Bowl. Being able to be there when the Chiefs finally beat the Bengals to go to the Super Bowl after not having beaten them in recent years was a feeling unlike any other, I jumped around and cried out of pure excitement to get to watch the Chiefs win the Super Bowl. 
The Super Bowl truly and honestly felt like a fever dream, it's been over a month at this point and it still feels like it was just a dream and I haven't woken up yet. As someone who is a fan of special teams and especially the Chiefs kicker Butker the Super Bowl was nothing but stressful and the end had me close to tears.
I'm pretty sure everyone within a mile radius heard me screaming and jumping around in my Butker jersey as he kicked the Super Bowl-winning field goal.
The Parade of Champions was an odd experience to say the least, with thousands of people crammed into just a few miles radius you would think it would feel overly crowded but really it felt just right, it felt like I was standing around thousands of my closest friends all celebrating the same achievement. I also somehow managed to get a high five from Kelce during the chaos.
This past season altered my life for the better, bringing me closer not just to the sport but to my dad as well as many of our closest friends and family.