Here we go again!: Review
Since the announcement of the musical early in the school year, I was excited about seeing the musical, so I thought to give the musical a chance since I heard amazing things about their remake of Lin Manuel-Miranda's Broadway musical 'In the Heights' last year. Also, I had practically grown up listening to the Swedish pop group, ABBA, so coming to see the musical I felt like I had a part of my childhood restored.
Upon paying the $10 ticket, I had noticed early on that Oak Park High School theatre had set out their sights in yet again creating another amazing production. Just looking at the stage itself was fresh and inviting and even though it was all student-made, it was an incredibly impressive feat to create a functioning yet beautiful stage.
While the musical of "Mamma Mia" revolves around single mother Donna and her recently engaged daughter Sophie Sheridan in their Greek island home. Sophie looks for her father so she can have someone walk down the aisle at her wedding. She sends out three wedding invitations to different men upon reading a diary from her mother's past. All three men show up to the wedding causing complications to the bride-to-be and problems arise coming closer to Sophie's big day.
The musical itself, the acting and vocalization of the actors was amazing. Every actor's voice suited the character perfectly, while Sophie (played by senior Sierra Hermsen) has an amazing and fresh voice, Donna (played by junior Francesca Young) had a husky and powerful voice that complimented their characters perfectly. Even Young's portrayal of the ballad 'The Winner Takes All' made me emotional since she conveyed the emotion and struggles of Donna and her struggles of being a strong, independent, single mother trying to raise her daughter.
While all actors did amazing, what stood out to me was the chemistry of the friendship trio: Donna, Tanya (played senior Danielle Blankenship), and Rosie (played by senior Ellie Hermes) all did amazing in portraying a natural friendship, and they absolutely shined in their disco outfits. Tanya was absolutely my favorite character since the film, and Blankenship definitely nailed the role of the rich, sophisticated, and spoiled aunt.
The production crew did an amazing job, everything about it – the lights and everything complimented every scene that was happening on stage and nothing felt out of place. Another aspect that complimented the musical was the ensemble, they were lively and animated that it simply added to the feel-good vibe of the musical. The last mention is the pit crew, although this year it wasn't played by an entire band, the instruments who stayed in the pit crew this year such as the bass, drums, keys, and guitar was an amazing addition to the musical and my favorite was listening to their intro music to "Mamma Mia."
Overall, OPHS's "Mamma Mia the Musical" was a whole feel-good experience. It will surely bring out your Dancing Queen, and I enjoyed having a part of my childhood relived on stage. It is an amazing student production done by the OPHS theatre department yet again, and so for my first and final musical as a senior OPHS student, I will say it was a worth-it experience.
About the Writer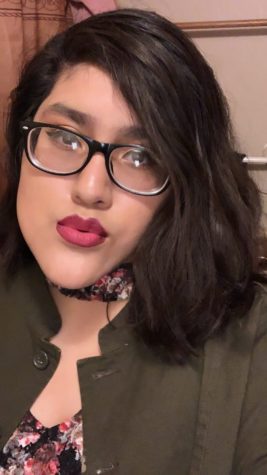 Ivonee Morales-Mejia, Copy Editor
Hi, I am Ivonee Morales-Mejia. I joined journalism because I needed an extracurricular activity. This year I am looking forward to being  a good copy...