Looking for a father in the fall musical
Hang on for a minute...we're trying to find some more stories you might like.
Theater students are excited for the upcoming musical "Mamma Mia."
"I am excited for the show because I've never been in a main stage show so hopefully, I get to be in the ensemble," said sophomore Tatiana Rizek.
Some students like crew and others like cast.
"I am very excited for the show because I love working the shows," said sophomore Mckenzie Day. "I want to get house crew head because I like to be in charge and it just sounds fun."
"I'm hoping to just get ensemble because its more me and it's a good start for me just starting," Rizek said.
In "Mamma Mia," Sophie tries to figure out who her real dad is so that he can escort her down the aisle on her wedding day. "I hope that people get enjoyment and laughter the show itself is very light hearted, it is a little risqué that the mom don't know who the father of the child is and there is three possible dads but it makes the show a funny story, ultimately its more of entertainment services and a throwback for those older generations where it is ABBA music like disco, retro on top of being modern," said theater director Matthew Ashpaugh. "I chose Mamma Mia for the musical along with Mr. [Chris] Droegemueller because, it is a popular show, it's one that families do enjoy watching, the movie was really popular and after doing a less popular show last year even with the success with the show I wanted more of an audience.
"I am most excited to see how the final product is going to turn out, we don't know the cast yet we will figure that out this week, we don't know who the crew is either and we will figure that out this week, and just seeing how the final product will turn out that's everything that all of our hard work and creativity together to make one awesome production and with a good cast and good show last year I want to see if we can do that again," Ashpaugh said.
"Mamma Mia" will be at 7 p.m.  on Thursday, Friday, and Saturday, Nov. 7, 8 and 9 in the main auditorium and at 2 p.m. Sunday Nov. 10. Tickets cost $10 and there will be online ticket sales about a month before the show, or you can get tickets the day of by the main auditorium.
About the Writer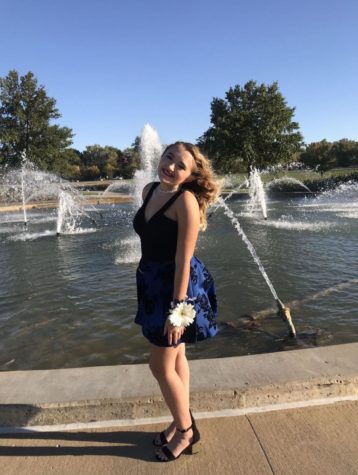 Kayleonah Trumble, Staffer
Hi, I am Kayleonah Trumble. I joined journalism because I like to write, and it seemed interesting. This year I am looking forward to improving my journalism....