Mamma Mia, here we go again
After the success of the 2018 fall musical "In the Heights," Oak Park High School theatre sets the stage for the 2019 fall musical. Making its debut on Broadway in 1999 to the big screens in 2008, "Mamma Mia" was chosen.
"I chose 'Mamma Mia' as the musical this year for a couple of reasons, first, it makes people feel good as the music is all classic pop radio hits from the band ABBA." Theatre director Matthew Ashpaugh said, "Second, the musical is very new to be done by high schools. In fact, it is the second year of it being eligible for high school theatre departments to perform,"
"
We have many people all over the KC Metro area that have been asking to get tickets for the show already because of our success last year."
— theater director Matthew Ashpaugh
Since the announcement of positions, tech crew began production meetings and have very strict deadlines for designs to be created and planned out so they can begin putting everything together for the musical.
"We've been like going over blocking and like running lines with like the cast and practicing all the songs with our musical directors like Mr. D [Chris Droegemueller], we also have come up with the scenic design and everything," said stage manager and senior Elaina Shalabi.
With only two months to prepare, there is so much to do, so little time. Actors also have to work hard, as they only get so much time for learning the music with Droegemueller, learning the choreography, memorizing lines and blocking.
"I play Sophie Sheridan in the musical," said senior Sierra Hermsen, "She's a young woman about to get married and she's just happy and stressed out all the time because she's trying to find out who her father is, so she's easy to play her because I can relate to her a lot,"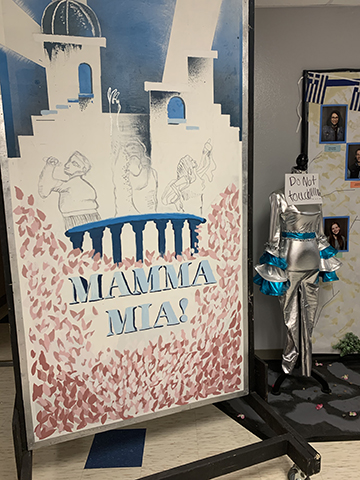 "Mamma Mia" will run 7 p.m. Nov. 7-10, and tickets will be $10 for general admission. A student matinee performance will be on Nov. 8 that morning during the school day with matinee tickets at $5 for students.
Ashpaugh said, "We have many people all over the KC Metro area that have been asking to get tickets for the show already because of our success last year. Other directors and schools have been asking to come see our show as well because they saw us perform at Blue Star and/or the Cappies Gala last year and were extremely impressed. "
With so much preparation until the opening night, there is still the pressure to exceed the expectations set by last year's musical.
"We had set our bar so high last year, and yet we still want to surpass that," Ashpaugh said,  "However, I will say that I have faith in my directing staff and students that we will only bring excitement, happiness, and joy to those who attend, and as long as everyone puts their best foot forward, we have nothing to worry about. We will be proud of the work we do. If we get more nominations/wins or less this year, I know I will be proud of their work, and they all should be as well."
About the Writer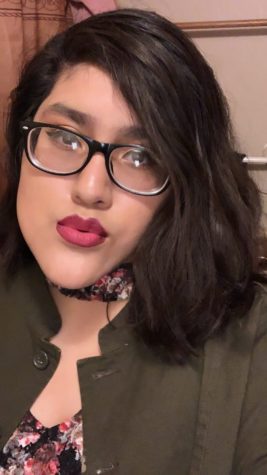 Ivonee Morales-Mejia, Copy Editor
Hi, I am Ivonee Morales-Mejia. I joined journalism because I needed an extracurricular activity. This year I am looking forward to being  a good copy...