Blue Bloods set examples for future Northmen
Have you seen the poster of smiles beaming with pride? Or seen high schoolers talking to excited elementary schoolers about being a leader? Then you've seen the new leaders, the Blue Bloods.
"The concept of the Blue Bloods is if we have representatives from every MSHSAA activities offered here at Oak Park. That includes all sports plus band, choir, theatre, and debate…and take that group of kids each season to meet twice allowing those kids to be a voice for the program," said athletic director Chad Valadez.
He said his biggest goal for the meetings is him not having to talk; he wants the kids to run the meeting themselves and he just buys food. He also looks for alumni speakers to talk to the students about being a leader because he truly believes in the #forthefamily atmosphere.
"Last year was my first year as AD; and I wanted to start new traditions for our current kids here at Oak Park that built around the history and tradition that was already here at Oak Park, because for a long-time Oak Park was one of the most dominate schools in the Northland," Valadez said.
Valadez said he believes having programs working to similar goals regardless of talent will allow athletes and students to build community where they will be successful. That community is being built by the Blue Bloods interacting with the community.
"The Blue Bloods have a target on their back. They are the ones that everyone should be watching on how to act," Valadez said. "Like when there is an issue in the hall or with this or that their voice should be heard and if they are truly a Blue Blood, people will respect them and people will listen. There should be a lot of pressure for these kids."
He personally talked to all the kids about what he expects from them and asked what they expect from the program.
"Getting more people involved and getting us out there more because a lot of people don't know, or Blue Bloods and we can't help if we're not known," junior Carley Freeman, Blue Blood for softball, said.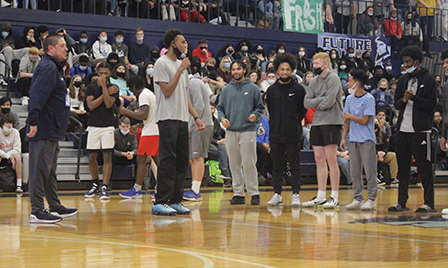 Senior Tony Vanderbeek, Blue Blood for boys swim and dive, said, "My goal for the program is for is to become an inspiration to younger kids and give them an example of great leaders so they came become one themselves."
Both Blue Bloods made steps towards their goals by going to visit with elementary school kids and going over the expectations of a Blue Blood. They also handed out backpacks filled with school supplies during back-to-school events to families who might struggle to pay for it themselves.
Freeman also said being a Blue Blood makes her very proud and she wants to continue help lead her community.
Leave a Comment