Follow-Up: Oscars Results
I predicted the Oscar winners just weeks ago, and now I can review the results. Some of the results were easily guessed, but many were a total surprise, such as "All Quiet On The Western Front" winning four awards and "The Banshees of Inisherin" winning none.
Best Picture: "Everything Everywhere All At Once"
"Everything Everywhere All At Once," the sci-fi/drama/comedy movie is arguably the film of the year. It's rare when something in the sci-fi/comedy genres gets praise at the Oscars, but this multiverse epic won seven Oscars, six of which were above-the-line Oscars, (above-the-line refers to the directing, acting, and writing awards – the most prestigious academy awards), which is the most above-the-line Oscars any film has ever won. I hoped and predicted this film to win, and I'm glad it did, I really loved "The Banshees of Inisherin" and hoped for it to win, but "Everything Everywhere All At Once" is so large scale and creative that I understand why it trumped over "Banshees."
Actor in a Leading Role: Brendan Fraser, "The Whale"
This was a widely expected win for Brendan Fraser despite his recent hiatus in acting, his painful performance in "The Whale" shocked audiences and impressed the academy. This award was well deserved, but I loved Collin Farrell's performance in "the Banshees of Inisherin" more, and my personal opinion influenced my previous prediction.
Actress in a Leading Role: Michelle Yeoh, "Everything Everywhere All At Once"
Michelle Yeoh is the first Asian actress to win Best Leading Actress in Oscar's history, and her performance as a mom, laundry shop owner, and superhero was beautiful. She definitely deserved the award and I would have picked her to win over my previous prediction of Cate Blanchett for "Tár" if I had just rewatched "Everything Everywhere" before sending out the story. I would have expected Yeoh to win because her performance showed great range and was incredibly good, as well as being a relatable character and a well loved actress, Yeoh was the best nominee in my opinion, and I'm very pleased she won.
Actor in a Supporting Role: Ke Huy Quan, "Everything Everywhere All At Once"
Ke Huy Quan returned to acting after nearly 25 years, and his role in "Everything Everywhere All At Once" was great. His character was very lovable and his interactions with Yeoh were sometimes heartwarming, other times heartbreaking. I predicted this award, but I did truly hope Barry Keoghan would win for "The Banshees of Inisherin," because he truly had the best performance out of all the nominees with such a horribly sad and aloof character in the film. Quan definitely overcame anyone's expectations from even a year ago, he was nearly a forgotten actor from the 80s/90s, and his comeback was spectacular.
Actress in a Supporting Role: Jamie Lee Curtis, "Everything Everywhere All At Once"  
Jamie Lee was not one of my favorite nominees, though its her best acting yet, Stepanie Hsu of the same movie was also nominated and her acting as the daughter of Michelle Yeoh's character was amazing, as she played an emotional character as well as an alternately cold character, and her range in the film is some of the best I've seen this year. Even Kerry Condon from "The Banshees of Inisherin" had stronger acting than Curtis, with a comedic and loving performance as Collin Farrells' characters sister. But this was Lee's best acting yet, and as an almost completely comedic role, it's very impressive that she won the Oscar.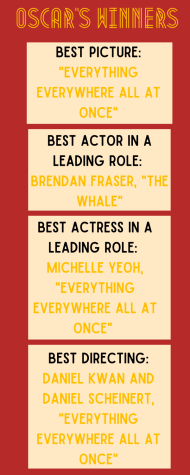 Animated Feature Film: "Guillermo Del Toro's Pinocchio"
Packed with impressive stop motion techniques, beautiful colors and an original spin on a classic story, "Pinocchio" won Animated Feature Film over my prediction, "Marcell The Shell With Shoes On" which could have been expected as it won the Golden Globe for animation. "Marcell the Shell" had a better story than any animated movie I've seen before, but I understand why Del Toro's cinematic and technical masterpiece was the winner of the award, with its fantastical characters and classic stop motion style.
International Feature Film: "All Quiet On The Western Front"
"All Quiet," nominated for eight Oscars and winning four, was widely expected to win and it did. With its large scale depiction of war, it had many aspects that made it one of the best foreign films of the year. This one was quite obviously the best pick, though other nominees such as "Close" and "EO" were great as well.
Directing: Daniel Kwan and Daniel Scheinert, "Everything Everywhere All At Once"
I expected The Daniels to win this, but still winning over Steven Spielberg is no easy feat. "Everything Everywhere All At Once" was one of the most busy, technically difficult movies of the year, and it was executed very well, in all aspects of the movie. The amount of content in the film, the acting, writing, and cinematography were all close to perfect, and this is thanks to the directors, especially as they wrote the screenplay too.
Writing (Adapted Screenplay): Sarah Polley, "Women Talking"
One of the best written films of the year, "Women Talking" was the obvious choice for best adapted screenplay, as it's contenders were on a much lower level in my opinion. "Women Talking" was a film about women talking, and the dialogue was written very well as to set a theme and a point, as well as to include poignant discussion about realistic scenarios. It definitely deserved the award.
Writing (Original Screenplay): Daniel Kwan, Daniel Scheinert, "Everything Everywhere All At Once"
Though I didn't expect this, "Everything Everywhere" was a great written film, with heartbreaking dialogue along with some of the most hopeful. The theme shined in the writing and with its originality and separate family drama and sci fi/comedy aspects perfectly combined, it deserved this award, though personally I preferred the writing in "The Banshees of Inisherin," which unfortunately won no awards. I thought the writing was great and the repeating themes were super well expressed and sad, and the use of allegory was great, the writing almost seemed mythological in a way. But "Everything Everywhere All At Once" was also great and the combination of comedy and drama along with its originality, made it a truly epic film.