Take a Look into these Off-Campus Programs
With the new school year coming up, students have the option to apply to an off-campus program. Among the programs offered, include NCC, Northland Career Center; MCC, Metropolitan Community College; and NCAPS, Northland Center for Advanced Professional Studies.
Students have applied to these programs to help themselves in the long run. Junior Rylee Els joined NCAPS because she believed an internship would help her graduate with Gold Medallion and look good on her college application. Junior Meea Ferrara joined ECA, Early College Academy, at MCC because of the opportunity where she could earn her associate's degree at the same time as graduating from high school. Junior Rachelle Perez joined NCC because she thought it would be a good first step toward the medical field.
"
I love my classes and I love the friends I've made along the way.
— junior Meea Ferrara
These programs allow students to explore more about specific career-oriented paths, and help them dive deeper into their own interests. For Perez, when she first started the CNA program at NCC, she wasn't interested in nursing, but is now seriously considering pursuing it.
"I have gained a new appreciation for nursing and will definitely take this experience to heart for my future work in the healthcare field," Perez said.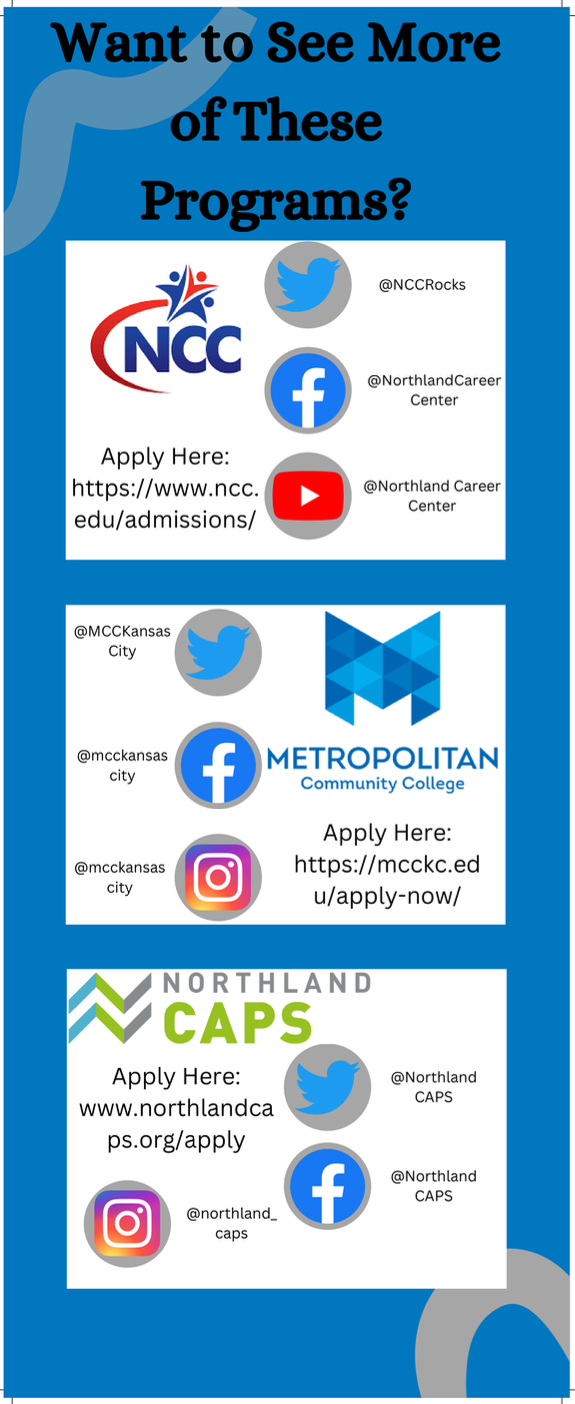 Each of the programs can be an advantage in the future to students, as they provide lasting connections and beneficial experiences.
"I would say a big pro is you get to learn so much about professionalism and how the work world is," Els said. "I get to work with people twice my age and some people straight out of school, and I love to have such a variety of people."
These programs also help students develop life skills. Through the ECA program, Ferrara gained experience in learning to avoid procrastination, communicate with professors, utilize resources, study, and plan.
Alongside what these programs have to offer, come small and big cons. Els said some small cons are missing out on some things at school such as not being able to talk with friends and not being able to attend the assemblies. A big challenge for her is communicating with the students on the off-site programs about extreme test days and scheduling.
"The only con relies on you," Ferrara said. "What you put in is what you get back, being in college takes a lot of responsibility so you have to have the motivation to do well or else you could fail which you'd pay for in the end."
Despite these responsibilities, the pros obtained through the programs outweigh the cons.
"I love my classes and I love the friends I've made along the way," Ferrara said. "You truly get a head start and that's a rare opportunity."
Leave a Comment