Women's Empowerment Needed Now More than Ever
Roe v Wade and other current events make this club valuable
As we return to school, it is imperative to stay up-to-date with the pressing matters of today, so that we can make a change when necessary. On Friday, June 24, during the district's summer break, Roe vs Wade was overturned by the Supreme Court, that was dominated by the Republican party. 
The Republican-nominated justices include: John Roberts, Samuel Alito, Clarence Thomas, Neil Gorsuch, Brett Kavanaugh and Amy Coney Barrett; and the Democratic justices are: Stephen Breyer, Elena Kagan and Sonia Sotomayor. To overturn Roe vs Wade meant removing the access to abortion, which many people view as the way to gain a source of power over women and much more.
What is Roe vs Wade?
Roe vs Wade was a lawsuit during 1973 for the right to have an abortion. It was brought by Jane Roe, who decided to challenge the Texas abortion laws. The Supreme Court decided that people who wanted an abortion had a right to privacy and could decide whether or not to have an abortion, however the right was not absolute and can be challenged by the government's interests. To make the decision the Supreme Court went through a process first deciding that abortion does fall under privacy rights which was supported by the due process clause of the 14th Amendment. While the 14th does not explicitly state the people have a right to privacy, the Supreme Court has recognized the right dating back to 1891.
The defense of abortion restriction from Texas stated, "Protecting prenatal life from the time of conception is a compelling state interest."
However the court said being forced to continue pregnancy put the person at risk for "physical health, mental health, financial burdens, and social stigma," After further research on previous laws and statements, as well as religion and when a life begins, it concluded "the unborn have never been recognized in the law as persons in the whole sense."
With all of this information, the court made the decision for the right of privacy for issues such as abortion. however the government could interject in the procedure if they deemed necessary. 
Why is it important today?
One of the most important accounts that must be looked at regarding abortion and the legalization of is the death rate.
While many people against abortion say the amount of abortions increased dramatically after the law, that is untrue. There were over 1 million abortions pre-Roe vs Wade.
So what did the law help with? The rate of death: many unwanted pregnancies were still terminated prior to the law, just in an unsafe manor, which in many cases was fatal to the fetus and parent.
Roe vs Wade dropped the death rate massively, as mothers now had access to a safe procedure.
While many Americans have pushed for the ban of abortion, they must consider that the action will take place, just not by medical professionals. The right to abortion was never complete with the government's ability to make a final choice, so why push for an overall ban?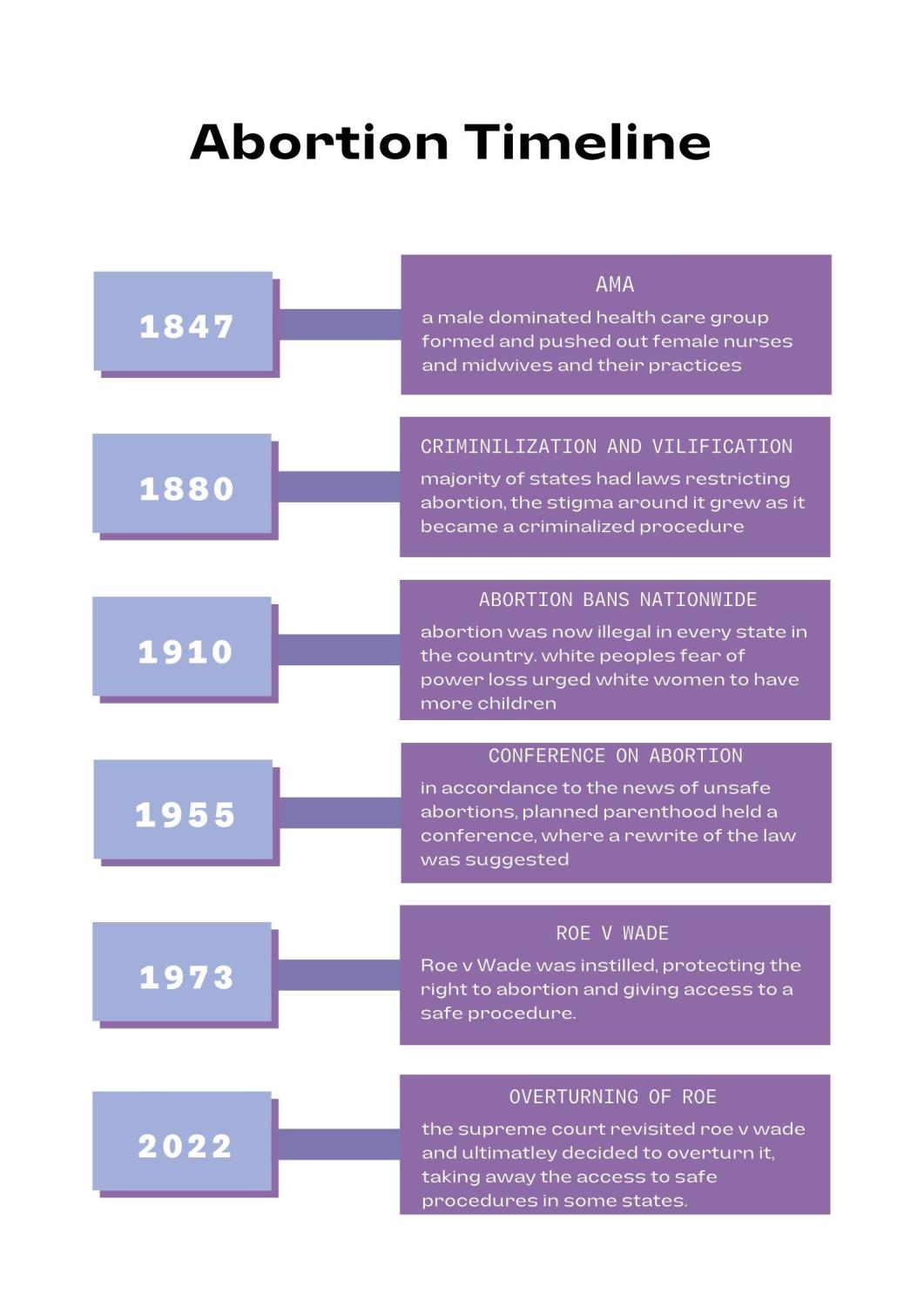 How long the battle has been going?
While the knowledge of abortion by the general public is mainly from 1973 with the Roe vs Wade lawsuit, and today's overturning of the law, abortion has been an ongoing struggle decades prior. 
Other women's issues:
While abortion is one of the mot talked about women's issues today, there are still many others that need attention for example, gender bias, unequal economic opportunities, educational equity, gender based violence, economic justice racial justice, LGBTQIA+ rights, and constitutional equality among many other issues that are not discussed in most press. 
Women's empowerment/feminism:
Women's empowerment and feminism is a main defense against issues faced today. This is promotes self worth, ability to make choices and influences social change. The overall goal is to have equality among all society and this is a way for women to get there. You can see this in groups, influencers, organizations, etc. 
Talk about groups:
As stated before, the movement is very important and no matter what side you are on, women need help more than ever.
The Women's Empowerment Club provides a safe space for everyone in our school. 
Women's Empowerment Club, WEC, sponsored by Amanda Cunningham, is a club for anyone. They discuss important topics regarding women and what they might be able to do to help on a more local scale.
If you need help with anything possibly related to the matters discussed in this, you can ask for help from the Women's Empowerment Club. 
Helping outside groups:
There are of course other options. For instance, if you are not an Oak Park student, the women's movement is still strong throughout Kansas City.
An organization for women, Missouri Now, which from the founding of their group in 1966 has had the important mission for "bring equality to all women," work hard to achieve goals such as "eliminating discrimination and harassment in the workplace, schools, the justice system, and all other sectors of society; secure abortion, birth control and reproductive rights for all women; end all forms of violence against women; eradicate racism, sexism and homophobia; and promote equality and justice in our society." They also have many sources to help for women in need, if you would like to get involved, you can join their group or attend meetings. 
In reality, you don't need to join any group to make a change. With Roe vs Wade being overturned women are being targeted everywhere.
To make a change, you can simply pay attention to what is happening on a local scale and determine what you can do. Some ideas would be helping the women closet to you, it is crucial for us to stand together and always support one another.
Donating is another great option; there are many women in need you can donate things like food, clothing, menstrual products, money, or baby care products to mothers who are not getting the proper help to raise children. You can give these proceeds to homeless shelters, women's homes, those in need you personally know and other distribution organizations.
And another creative way to help is by employing women. If you are a business owner, look for women who need jobs and are less likely to get hired at other places.
And as a consumer you can shop at small businesses owned by women especially women of color. 
Conclusion:
As seen from the information above, women are still experiencing discrimination today in many different ways. There have been many organizations who have been holding events and ways to back their movements against issues like mentioned abortion.
Although Roe vs Wade has been overturned, do not stop empowering and helping other women, the more we stay active the more likely we are to make a change. 
Resources: 
Leave a Comment