A Street-Side Pick-Up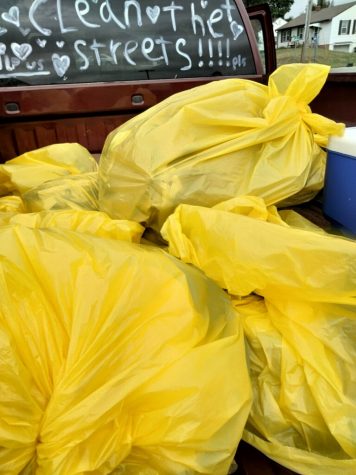 While most kids spend their Saturday morning sleeping in, others woke up to pick-up trash off the roads of their community. Students met outside of the Gladstone City Hall and from there, dispersed into two small groups along the streets of Gladstone.
Nation-wide, littering is a common problem. It can be seen anywhere from a neighborhood sidewalk to the highways traveling across a city. These students voluntarily chose to spend their morning serving their city, even if it only meant covering a few areas.
"It's so easy, it doesn't take you very long, and yet it makes things easier for everyone else who lives here," junior Chelsea Trieu said.
This act of service is so simple, yet it does so much for the condition of the city and environment. The attention brought to the build-up of trash across private/public zones helped in reducing the risk of danger to cars on the road; people, especially younger children; and animals living nearby.
"It surprised me a lot at how much we were able to pick up in just one hour," freshman Olivia Banuelos-Angelo said.
Through a team-effort, students were able to collect enough trash to fill seven full trash bags. Cigarettes and alcohol were primary trash findings found among the volunteers. A few odd items such as a pair of flipflops, a shoe, and a saw blade were also discovered along the way.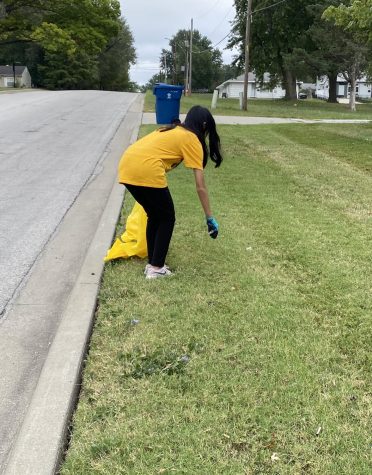 "I have always been upset by seeing trash along the roadways," freshman Abigail Zdanys said. "I wanted to do something to make a difference."
This organized community service opportunity was created through the inspiration of Zdanys and her desire to do something about the accumulation of trash. She hopes to continue to clean the roads Saturday mornings or afternoons and urges others to join in on the pick-up.
Not only will it help the environment, but also helps students build community service hours. Students interested in this pick-up may contact her at 816-490-9282 and let her know your availability. Another way to receive access to future events like this is to keep an eye out for A+ newsletters sent out to your Outlook school email.
To the people who intentionally litter within our city, Zdanys gives a clear message, "Maybe you don't want a clean city, but we care and want to keep it clean and nice."
Leave a Comment