Seniors Show Creativity in their Parking Spots
Seniors gather to for-fill the tradition of claiming and painting a parking spot and expressing their personalities.
It's widely known that students paint their parking spots when they become seniors. This school year there were 80 spots available to seniors, and 75 were claimed.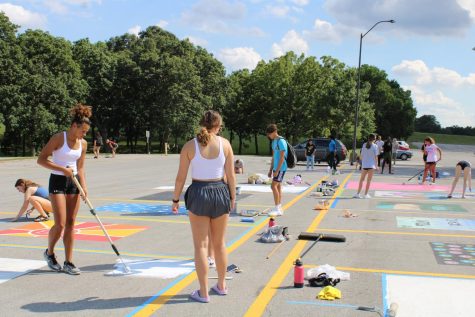 Student Council sponsor Devon O'Connor orchestrated when seniors could start painting. O'Connor sent an email to the class of 2023 in May explaining the process, then posted a reminder in August on Instagram. 
A Google form was in the email sent to Cla
ss of 2023; and those who filled it out in time were given a parking spot and could bring their supplies and paint. Seniors weren't given a time limit to finish, they were just to start Aug. 16. 
"There was probably between 75 and 100 people here because they had lots and lots and lots of help,"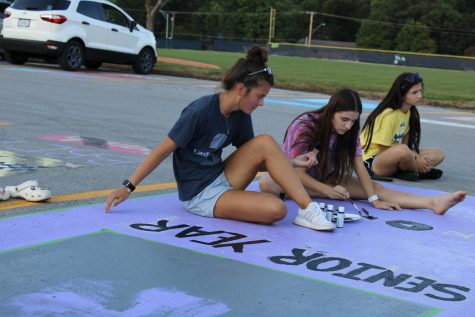 O'Connor said. 
Senior Jennifer Vergara said she was here August 16 and 17 and it took her a total 10 hours to finish painting her parking spot. Vergara got her inspiration from growing up watching anime. She said she found the idea on TikTok and knew she had to do it.
"I always wanted a parking spot of my own," Vergara said.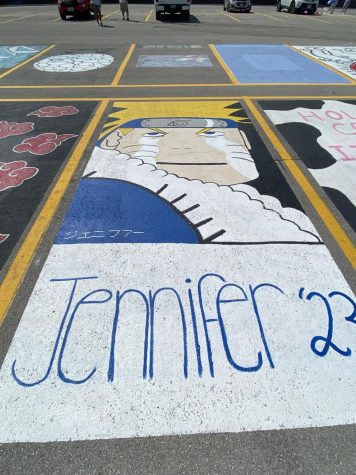 Senior Devon Duncan said she wanted to come and paint but were in a time crunch and had her friends finish for them. She said she wanted something creative but not too hard to do.
"I couldn't go both days but in the end I really did enjoy it," Duncan said. 
Not a lot of teachers paint their parking spots with the seniors. However, chemistry teacher NeQuelle
DeFord said she wanted to paint hers because she wanted to show that science is cool. 
DeFord said she was surprised by the number of teachers who invested their time into painting their parking spot. She said she was surprised because as teachers they're always so busy and have so many commitments. 
"This is a mark, this here at Oak Park. Right? And it's a tag that I belong here," DeFord said.