Last Rodeo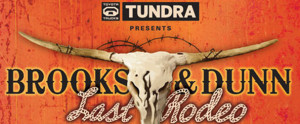 By: Chelsie Yokum
On Friday August 6, Brooks & Dunn performed at the Sprint Center downtown in the Power and Light District. After nearly two decades of success, the duo is bringing their partnership to an end with one final cross-country tour dubbed the "Last Rodeo". I had pretty high expectations for the pair, with their long history of chart-topping hits, Grammy nominations, and sold-out concerts. Although the concert did not compare to the show Garth Brooks put on for his final tour a couple of years ago, I enjoyed the duo's performance overall.
The concert opened with sixteen-year old Tyler Dickerson, a brand-new recording artist currently working on his first album. I enjoyed watching him from the moment he stepped onto the stage, and became even more impressed when he announced his age. He had a good voice, catchy songs, and amazing stage presence for someone so young. He spoke to the audience and joked around, which is more than I can say for Brooks & Dunn's official opening act, artist Gary Allan.
Although I am a fan of Allan, I was extremely disappointed with his performance. He opened with his latest single, Get Off on the Pain, and sang through three straight songs before he addressed the audience at all. Even then, all he did was ask, "How y'all doing, Kansas City?" before launching into another song. He sang quite a few numbers that I didn't recognize at all, and even the ones I knew were difficult to understand. After his performance, I'll think twice in the future before purchasing tickets to a show of his own.
After about a thirty-minute break, Brooks & Dunn finally took the stage. They opened with their 2005 hit single Play Something Country, a great choice, I thought. It was upbeat and got the audience on their feet and excited. Although they didn't talk to and connect with the audience to quite the extent that I was hoping, they did get a few laughs out.
While Ronnie Dunn is obviously the lead vocalist of the pair, Kix Brooks is actually quite the entertainer. He was the one who spoke to and interacted with the audience the most, cracking jokes and even pulling a young girl from the front row up onstage to dance with him at one point. When he wasn't singing, Dunn hung back for the most part and didn't say much.  At one point after a number, he asked Brooks to "take over for a while" because he thought his voice was giving out.
Although the show lacked in the entertainment category, the music, of course, left nothing for wanting. Their words were clear, their voices every bit as good as in their recordings. Couples held each other and swayed to slower, sweeter songs like "Believe" and "Red Dirt Road". I caught the elderly man in the row in front of me popping his knee to the more upbeat songs such as "My Maria." The majority of the audience was on their feet for the entire show.
My only complaint is that the show was not nearly long enough. Brooks & Dunn played for barely an hour and a half, leaving out many of their most popular hits, such as "God Must Be Busy," "Neon Moon," "Hillbilly Deluxe," and "Proud of the House We Built." To the dismay of many, the pair did clearly announce that this was their last tour, and they would not be getting back together in the future.
While they did not go out with a "bang," as I was expecting for a final tour, I feel the show was well worth the money and definitely was a memorable experience.