On stage through the pandemic
This year did not stop the theater department from putting on multiple shows. There were some changes to keep everyone safe throughout the pandemic, but students and staff worked around it to do what they love whether it was on or off stage. 
The theatre guidelines with COVID-19 are: everyone wears a mask at all times, no physical contact, if you don't need to stay after for a show don't, stay six feet away from everyone at all times, using sanitizer often, and making sure to quarantine if needed. 
"During shows when we film them, we take breaks in between takes for COVID protocol to make sure everyone is safe," said senior Kaleighan Chastain.
Different types of masks helped bring the shows to life. 
"For each show, we have done, the masks are different. "Radium Girls" we had plastic clear masks and everyone hated them so for "Into the Woods," we printed pictures of the bottom half of everyone's face. "Yellow Boat:" everyone wore a blue medical mask because it was set in the hospital. "The Scars that Made Us:" the actors will wear black medical masks because it's a darker show. Improv has masks that say "OP Improv," said Chastain. 
For Into the Woods, senior Lily Dickson worked hard to get everyone's makeup and pictures done. 
"Masks have to be worn at all times, and we have to sing and perform with them on. This year, we had our makeup artist, [senior] Lily [Dickson], do designs for people to have their faces on the masks. It turned out well," said junior Isabelle Christus.
It took everyone to help make sure everything was cleaned. 
"Things are kept clean mainly from the custodial and maintenance staff doing a wonderful job cleaning our spaces. As a department, we have invested in some UV sanitizing wands that we use to clean harder to clean spaces. We also have a UV sanitizing box to sanitize small handheld items. Each crew maintains their area as best as they can, and cleaning up at the end of their workday or "shift" helps keep the regular clutter and mess down, but it can easily get out of hand when a day or two is missed," said theater director Matthew Ashpaugh.
After "Radium Girls," everyone got the hang of things with the new rules.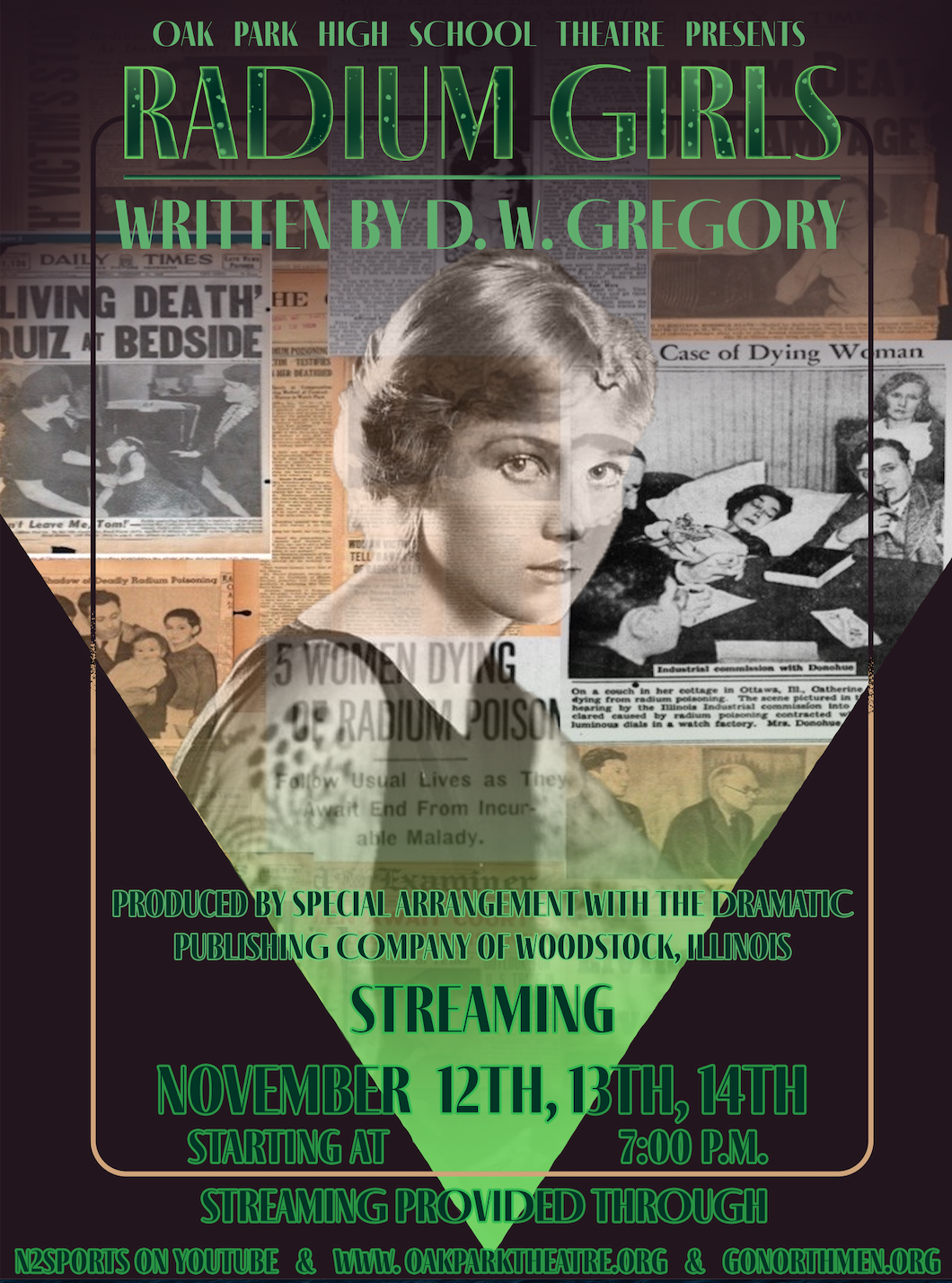 "Each rehearsal, I ensure that we have had everyone fill out the rehearsal check-in and have their temperatures checked to ensure we don't have anyone sliding by with symptoms. I also keep an eye on each and every mask I see. I make sure everyone is covering both their nose and mouth with their masks. If they are not, I will kindly remind someone the first time. After that, I have to be firm with them about keeping their masks up for COVID safety," said Ashpaugh
In the theater department, there were no mass spreads of COVID for the year.
"This was taken on a case-by-case scenario," Ashpaugh said. "Partly just monitoring everyone and ensuring that social distancing practices were done on a regular basis. This helped so if contact tracing was needed, that we had little to no spread of the virus. I am proud to say that we were have been able to make it through this year with no direct transmission cases within the department. Any student that had to quarantine due to close contact or COVID directly received transmissions from their own household. This is a huge accomplishment for all of us within the theatre department." 
It was important to set an example.
"There are a lot of noticeable changes this year," Christus said. "It is super different, and it has caused a lot of conflict on us. We've worked so hard and have followed all of the regulations, but it is hard when we see other outside of school activities not following the regulations as well as we are." 
N2 sports filmed and broadcast this year's shows.
" Our audience for shows are limited usually it's two per person," Chastain said. "Improv can't play certain games because of the close contact. We are now filming our shows and streaming them online for those who can't come to the live performance. Theatre has been very fortunate that we can still put on shows and our COVID guidelines have helped with that."