Oak Street's 'Psych!'-ing Out the Competition
Oak Street Singers couldn't be more 'Psych!'-ed to start performing as competition season is in full effect. Their first competition was Jan. 18, where they placed third in their division. Next, they compete on Feb. 8, where they will gain redemption and strive for first place.
Oak Street's show is called "Psych! Inside the mind of a high school student." Within the show it goes through various different cheesy scenarios one would often find a teenager enduring. The setlist consists of "Rise" by Jonas Blue, "Under Pressure" by Queen, "No Excuses" by Meghan Trainor, "Sucker" by The Jonas Brothers, "Try" by Colbie Caillat, and "Don't Stop Me Now" by Queen. To say the least, it's definitely different from what Oak Street has done in the past.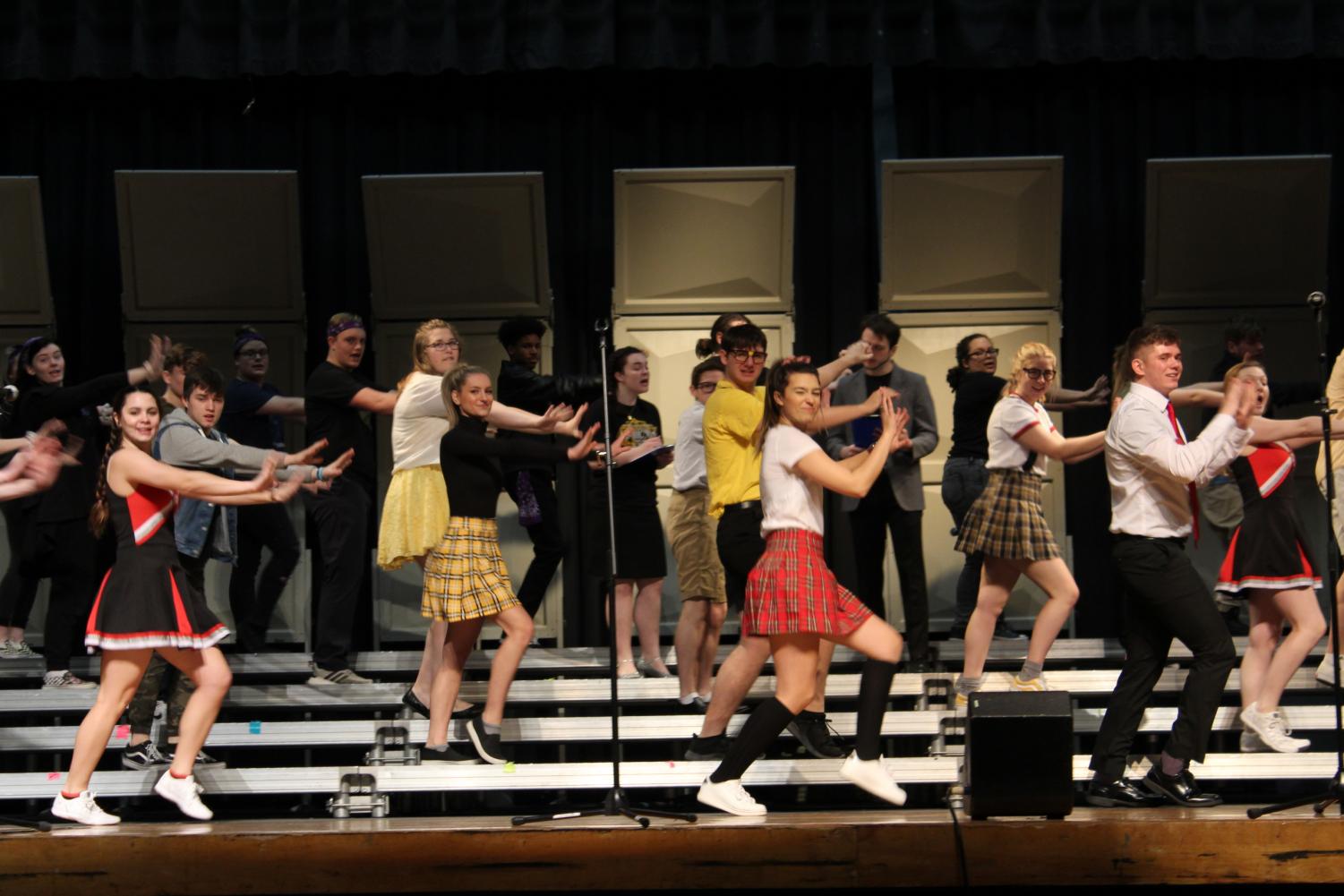 "It has more of a direction this year, last year it didn't have a specific idea, it was more of a thought then anything. And this year, the fact that we have a very specific theme that you can stick to – it makes it a lot easier to follow, and to characterize," senior Emily Witter, second-year Oak Street Singer, said.
Along with the show, Oak Street as a group is different from years past as well.
"This years' group all has such hard-working personalities. We all just want the best show we can get and that helps the relationships in the group strengthen. We're a family," senior Montanna Brelsford, third-year Oak Street, said.
With all the hard work put in, there are some things Oak Street members have taken the time to perfect within the show. 
"We work really well as a group. We don't just let one person fall back; we all will work together to get things right. Also, vocally, we blend really well, and we have great diction when the dynamics are soft, which is hard for choirs to maintain,"sophomore Caitlyn Morrow, first-year Oak Street, said.
But with strengths, comes weaknesses.
"Everything needs improvement, there will always be room for improvement," junior Colby Johnson, first-year Oak Street, said. "The big ones are good vowels, having energetic faces and dynamics are the big ones we are always improving." 
"
"Are you kidding? I definitely think we can win if we keep practicing."
— senior Emily Witter
Even with minor flaws, this show is loved by many. with each number having its own unique choreography and storyline, each person's favorite number is different.
"I absolutely adore 'Under Pressure,' it's the freaking coolest number. One; it's A cappella, Two; It fits into our theme really well, and the fact that we are on desks – it feels so cool to me," Witter said.
Throughout the year, the Oak Street Singers create a show and many memories that will last a lifetime.
"Camp was definitely one of my favorite moments, because we're all kind of just learning everything together, and relying on each other, and just like bonding and getting to know each other," Morrow said.
Each year, as people enter and leave, the group's dynamics change, and it's a bittersweet moment for the seniors.
"I'm going to miss everything. From the first time you awkwardly meet everyone and are really confused on how this show is gonna work, to camp where we all show that dancing is hard work and start to bond with each other, to getting the show completely put together and the rewarding feeling of performing at the first competition and walking off that stage with the biggest smile on your face and the excitement at the highest point, to the trip at the end of the year where you just get to have fun with these people who now feel like family because you've spent a year encouraging and building this show up. I'll miss it all," Brelsford said.
But, it's time to focus on the present, and that's Oak Streets thirst for a first-place trophy. Those other show choirs shouldn't even Try, because Under Pressure, Oak Street will Rise, with No Excuses, and they'll be saying 'Don't Stop Me Now!' and whoever doesn't believe them, is a Sucker.
"Are you kidding? I definitely think we can win if we keep practicing. The idea for the show would be wasted if we didn't place first," Witter said. "I feel like this show is too cool to just throw it away and do anything less than amazing."