Get Out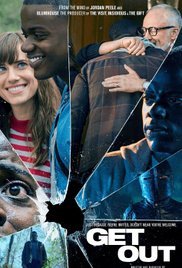 Hang on for a minute...we're trying to find some more stories you might like.
OVERVIEW:
Now that Chris (Daniel Kaluuya) and his girlfriend, Rose (Allison Williams), have reached the meet-the-parents milestone of dating, she invites him for a weekend getaway upstate with Missy and Dean. At first, Chris reads the family's overly accommodating behavior as nervous attempts to deal with their daughter's interracial relationship, but as the weekend progress
REVIEW:
There are very few horror or thriller movies out that actually impress me, but to my liking "Get Out" was quite possibly one of the best horror movies I've watched
movie was very powerful.  It gave you an incredibly shocking and borderline heart-breaking ending to an incredible film. I would definitely recommend to anybody that loves action and horror movies.  Undoubtedly one of my favorite films of 2017.