Peppermint Bark Recipe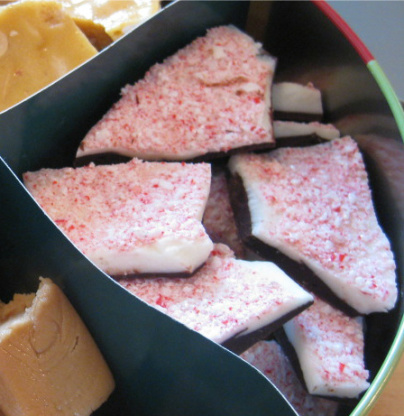 Hang on for a minute...we're trying to find some more stories you might like.
Peppermint Bark Recipe
INGREDIENTS
Semisweet Baker's Chocolate, 24 oz.
White Chocolate, 24 oz.
Peppermint Flavored Candies (e.g.: candy canes, peppermints, etc.)
Peppermint Extract, 1 teaspoon
UTENSILS
8×10 Baking Pan
Aluminum Foil
Stirring Spatula
2 Heat Resistant Bowls
Pot with smaller circumference then then bowls
Ziploc or other branded clear plastic bag
Cover pan with aluminum foil
Fill he pot ¾ with water and put on stove
Once boiling put bowl over pot, and slowly add semisweet chocolate and stir
Take chocolate off before it burns, wait for 5 minutes
Put melted semisweet chocolate in aluminum lined pan, use spatula to distribute evenly
Leave in fridge for at least 1 hour to harden
Redo steps 2-4 with the white chocolate, add peppermint extract while stirring
Put peppermint candy in bag, crush it with any hard object
Mix crushed candy with the white chocolate
10.Make a second layer of with white chocolate in pan; put in fridge overnight.